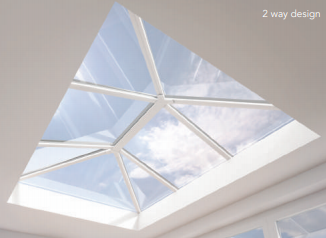 Roof Lanterns in Chislehurst
Many homes have rooms that seem like they just can't get enough light. Do you have this problem in your Chislehurst residence? You've likely tried adding lamps and other light sources but to no avail. Depending on the architecture of your room, it may just attract darkness more so than light.
So, what are you supposed to do? Thanks to the innovations of roof lanterns, you can finally get all the natural lighting you want. AP Windows is Chislehurst's trusted resource for professional roof lantern installations.
We can enhance your space with a stunning roof lantern to ensure optimal lighting. Below, you will learn what makes roof lanterns superior to traditional skylights and why you should call the pros at AP Windows for your installation needs.
What Are Roof Lanterns?
Roof lanterns work on the same principle as skylights. They let natural light into your home via glass panels in the ceiling. But roof lanterns surpass skylights in a couple of different ways. For starters, roof lanterns feature more than just a flat glass panel.
Instead, there are multiple glass panels. And they don't rest flat, either. The glass panels that make up roof lanterns are positioned so that light gets directed into your home from every angle. This results in more natural light than ever before, flooding your space with all the light you could possibly want.
The other primary benefit of roof lanterns lies in their appearance. Far more attractive than conventional skylights, roof lanterns are highly appealing, adding character to any space with features that promote a sense of uniqueness.
Here at AP Windows, we offer different variations of roof lanterns to ensure that you get precisely what you want. Our expert staff can help you choose the style that best complements your home, all while delivering quality performance.
For example, you can choose between Contemporary design, 3-way design, or 2-way design. Moreover, you can choose different finishes so that your new roof lantern perfectly matches your décor and interior design.
As you can see, we strive for your complete satisfaction and will work with you to ensure that your needs are met.
High-Quality Roof Lanterns in Chislehurst
For over two decades, AP Windows has proudly served Kent and the surrounding areas. Over the years, we have carefully and decidedly improved on our services. In doing so, we have become more efficient, all while keeping our prices reasonable and affordable.
As a result, you are getting superior service from expert installers who understand the importance of longevity and reliability. To discuss roof lanterns or any of our other services, please contact us on 0208 090 3500 or fill out our contact form to get started.
Download Roof Lanterns Brochure